Xavier Staff shares birthday experiences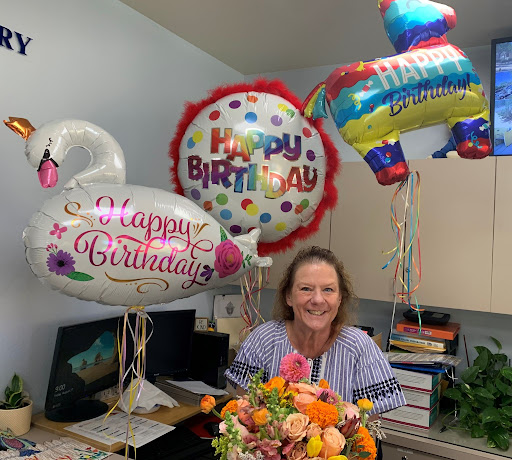 From teachers to administrators, there are many staff members at Xavier to celebrate. Each person who makes up the Xavier staff has a different story and perspective when it comes to birthdays and traditions.
Freshman Spanish teacher, Peggy Armstrong, was born on July 22 in Iowa. "My twenty-fifth birthday was with a bunch of friends and their gifts to me were wishes. They said what their wishes were and they wrote them down. It wasn't something expensive. It was a meaningful, heartfelt gift."
Stories like Armstrong's show that birthdays are not about how expensive a gift is, but about the intentions and thought that goes into the gift.
Director of Student Attendance Jeri Butts was born on August 29. Butts thinks birthdays should be celebrated as much as possible and that it is important to live life to the fullest. "Sometimes it's not only about your birthday, but also the people who want to celebrate you," says Butts. 
Butts highlights the importance of recognizing that birthdays are a special experience for everyone involved, especially those who are celebrating someone they love.
For freshman history teacher, Stephanie Brugger, birthdays are a special time to be able to reconnect with people and traditions. "I always go back to my grandma," says Brugger. "I am constantly trying to recreate that feeling that I had when I celebrated birthdays with her, and being able to make my family feel special is a tradition that makes me feel connected to my grandma."
Xavier's Director of Legacy Giving, Curtis Bruggman, says he likes to celebrate his birthday by honoring God. Bruggman finds that with each birthday he feels more grateful to God for having been blessed with another year. "Birthdays, to me, are an opportunity to reflect on God's blessings and an opportunity to be grateful for those blessings," says Bruggman. 
For Bruggman, like many others, birthdays are not only about reflecting on themselves, but also about reflecting on their relationships with God.
Studio Arts Department Chair, Alison Dunn, was born on August 9. Dunn recalls when she called her mother, who has dementia, a week after her birthday and her mother said, "I have been feeling so sad, that I forgot your birthday." Dunn then said, "But it means everything to me that you remembered that you forgot." 
"If your mother is still alive, call her and thank her for giving birth to you because giving birth and raising a child is a heroic act," said Dunn.
Mathematics teacher, Lou Iacovo, was born on July 10. To Iacovo, birthdays serve as a reminder of his growing age. "Kids can't wait to get older. They want to be adults but I say don't rush, just enjoy while you are a kid, because too many kids don't enjoy it," said Iacovo.
Many, like Iacovo, believe it is important for people to enjoy their youth and to not be in a rush to grow up so quickly. 
While birthdays can feel increasingly drab or dull as the years go by, English teacher, Dr. Clay Zuba, offers a fresh perspective. He shares one of his favorite birthday quotes by Emily Dickinson: "We turn not older with the years, but newer every day." 
Whether it is a day of spending time with loved ones or a day to thank God for another year, birthdays mean something different to every person who makes up the Xavier staff.