Two Xavier students win awards for outstanding ethics essays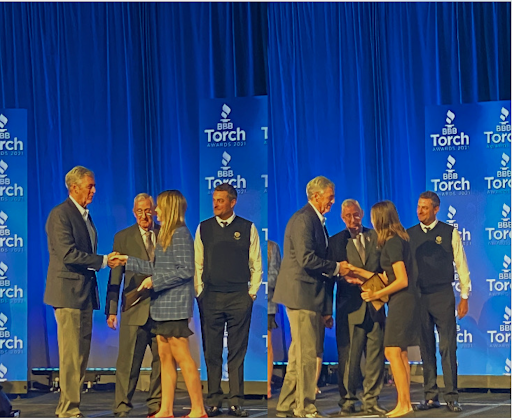 "If something matters to you, just focus on the why, not the how," said Jodi Low, founder and CEO of UandImproved and Torch Award winner of Category I. The Better Business Bureau (BBB) encouraged local businesses and high school students to reflect on their personal morals and ethics. Two Xavier students, Sonya Colattur '24 and Joan Walton '23, thought outside the box and placed second and fourth for the BBB's North Central Phoenix Ethics Essay Contest.
For students, the only directions given were to write a 400-word essay on "The Importance of Ethics and Integrity in Our Community" and that monetary prizes would be awarded. 
Colattur wrote about the role of ethics in the online learning environment. She presented the question of whether or not to cheat the online school system by following her friend's advice to have a fake loop playing on Zoom so she could walk away from her computer during class.
Walton wrote about contemplating whether she should sacrifice an easy flight home or give up her plane seat for a woman in need.
Both students had to weigh the consequences and rewards for the decisions they would make in their predicaments. 
The girls' English teachers, Shannon Donaldson and Clay Zuba, both heard about the essay contest from Dean of Students Denise Macrina and were told to promote the opportunity to their students. 
"I would say a total of 100 students competed from my classes," said Zuba. Donaldson said she only had about 15 students compete. The entire competition had 143 students compete. 
There was no input from moderators and the content of their essays was "all opinion based on personal experiences," said Colattur. 
Colattur and Walton both received scholarship money which was awarded to them at the Arizona Biltmore Hotel on November 17, 2021.  
Walton received $750 for placing 4th overall. Colattur received $1250 for placing 2nd. On top of the original scholarship money, Gary Sneed from Desert Financial announced that an additional $1000 would be gifted to the students. The BBB is focused on "giving and growing within the community," said Sneed.
Bob Dalton, founder of Sackcloth & Ashes, inspired the Biltmore audience and said, "When you do what brings you joy to bring relief to some injustice… you've found your purpose." The girls both reflected on past personal experiences and produced something extraordinary. The essays were both very different, but equally inspiring for other students. 
Both students said it was an enlightening experience. "It was an interesting prompt and different from a normal school essay," Walton said.