It's SLAC not slackers!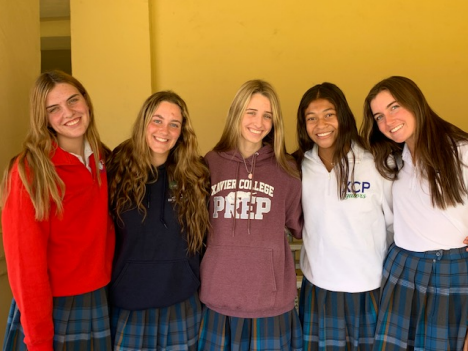 Throughout the school year, Xavier offers a variety of opportunities to its students to become involved or to pick up a leadership role whether that be in athletics or academics. 
The AIA Student Leadership Advisory Committee (AIA SLAC) is a committee made up of students from schools all over Arizona that promote the spirit of leadership within their communities. 
In 2018, the AIA was looking to start a student committee so they sent out letters asking schools to send exemplars of the term "student-athletes" to be a part of it. The first of Xavier's students to be on AIA SLAC were Abby Converse '20 and Serena Williams '21. 
This year Xavier has five representatives on AIA SLAC: Meghan Schouten '22, Emma Petersen '22, Noelle Peterson '23, Jayden Jevnick '24, and Lourdes Lauterborn '24. 
Discussing what it means to be a leader on AIA SLAC, Schouten said, "We work towards helping the community come together and bring ideas back to our campuses on how to improve and build leadership." 
Schouten has been on AIA SLAC since her sophomore year and has been on it the longest out of the five students. She and Petersen are in charge of the AIA SLAC social media where they post about other student leaders.
This is Lauterborn's first year on AIA SLAC, she is on the varsity soccer team. Lauterborn likes everything about being a leader and describes it as a good environment to learn how to become a better leader.
 Jevnick, who was on the golf team, has been a part of AIA SLAC since the spring of last year. "I really like it. It's a lot of fun to be a part of a smaller community of athletes who are also leaders at their schools, and it's nice to meet people from all over the state," said Jevnick 
AIA SLAC has monthly meetings and every member at one point has the chance to lead it, which is a way for them to practice leadership skills. "Every meeting there's a chair, who leads the meeting, and there's a secretary, which switches every meeting," said Lauterborn. 
Currently, AIA SLAC's main objective is working on the Student Leadership Summit that will be held on March 14 at Xavier, where all the AIA SLAC members, athletic directors, and many people will assemble. At the Summit, there will be public speakers and presentations that will talk about the values of leadership, sports, community, and oneself. 
AIA SLAC also holds a contest called the School Spirit Video Contest, in which each school makes a video showing off its school's spirit. In the end, there is one winner from the 1A-3A conference and one winner from the 4A-6A conference.
In an all-girl school like Xavier, it means a lot for it to have five of its students represent Xavier and everything it stands for on SLAC. After all, "part of [Xavier's] mission is to empower young women to leadership," said Sister Lynn Winsor, Xavier's vice-principal for activities/athletics.