Xavier canned food drive evolves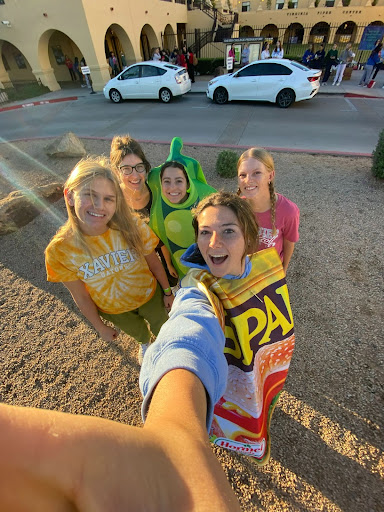 For Xavier's first ever canned food drive, "the goal was 10,000 cans," and "Xavier students now have taken on that challenge," said Polly Fitz-Gerald, director of alumni relations. Now, the goal is over 500,000 cans, a record set last year and surpassed again this November.
The canned food drive is a Xavier tradition started in 1994 that collects cans for the St. Vincent De Paul charity organization. It spans four weeks, during October and November, and the students, faculty and family of Xavier help support it.
Xavier's National Honor Society plays a big role in spreading the word and gathering donations. Members wait outside in the mornings before school to ring bells, bringing in cans from the arriving students, just as they did in the early years of the drive. 
This year's morning collections had extra spirit, a canned food drive "mascot," Bella Leonard, vice president of NHS. Dressed in a SPAM costume, Leonard helped "get people excited" on circle drive and on social media, a tactic that the original canned food drive did not have.
In addition to morning collections, this year had extra school collection days and a bake sale. The bake sale was highly successful, and students brought in an array of different treats and confections, from cakes to cinnamon rolls, collecting over $1,000 for the charity.
Recently, there has been an overwhelming increase in participation for the drive, beyond just student donations. Extended family members are now getting involved, which has made a significant difference in its success. "We're now receiving more tax credit donations, and participation from grandparents, and in the last two years we haven't had one homeroom that has not exceeded its goal," said Tara Metzger, NHS advisor. 
The drive takes the collaboration of the entire community, and Xavier's generosity and commitment show through its work in organizing this event. Metzger thanks the NHS members, especially, who have come out "willingly and lovingly" every morning for the past four weeks.
Arizona is one of the top states in the country for food insecurity. So, whether it's just $5 for "Can Your Skirt Day " or more, every donation counts.
Like the "Can Your Skirt Day," where students can stay warm in sweatpants during the colder months, there have been increased incentives for Xavier students to participate. For example, reaching the goal means an extra day of Thanksgiving break.
While these incentives are exciting for students, it is important that they remember the true purpose of the drive. Leonard said, "It's so fulfilling to see the effects that the Xavier community as a whole has on those in need." Additionally, Metzger is grateful for the Xavier community that comes together to help each other, because "that's what it's really about," now and when it was first started.
From the first ever canned food drive to now, Xavier has made impactful improvements. A new addition this year was the use of Venmo for the bake sale. Lily Foster, NHS service coordinator, said, "We were innovative this year and decided to use Venmo so that people who did not have cash were still able to participate."
The canned food drive is continuing to grow and evolve, with exciting changes made by the leadership within the Xavier community. Metzger is proud of all the work Xavier has done and how the campus has come together in support of the charity.
From 1994 to 2022, Gators have made significant leaps forward. The goal now is 50 times the original goal. The canned food drive's success, especially in recent years, has helped so many people in need through St. Vincent De Paul, and Xavier is blessed to be a part of it.
This year, Xavier has collected a record-breaking 603,499 cans, exceeding last year's tremendous total of 501,863 cans, as well as raising over $60,000. They hope to set another record next year!