Stewardship is a lifestyle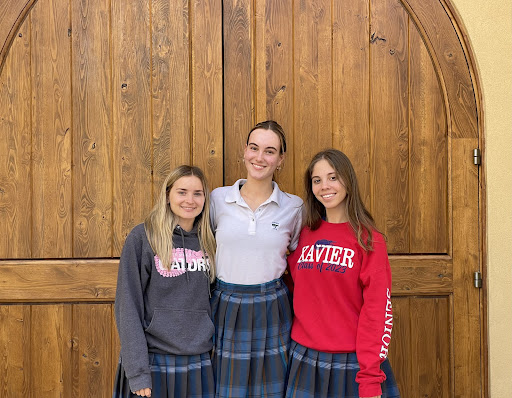 Stewardship is "a lifestyle — it's not an act, but it's how you see everyday things and say, 'What can I do to be a steward?'" said Catherine Ourso '23. It can also be described as "taking the gifts that God gives you and putting them into action in your community," said Sophia Kohrs '23. 
From a young age Elina Ferrigno '23, Ourso and Kohrs have been stewards in their communities. Service is important to their families, and Ferrigno said she "has always loved doing service work and it gives her the most joy."
Ferrigno's biggest inspiration in stewardship is her mother, who has always encouraged her to serve. 
In January, Ferrigno started a non-profit organization with her friend Milan Corragio-Sewell called Boxed Up. They work through organizations that help kids and families, with the help of grief counselors.   
Ferrigno's idea for the organization was "a youth-to-youth nonprofit to help kids and teens work through their feelings using the loss/grief toolkits" that they would provide. With the counselors guidance they carefully picked what items would go into the boxes. Each of the toolkits has directions for how to use its contents which include a journal, yoga guide, photo album and frame, fidget spinners, bubbles, a drawing pad and markers. 
This has been a life-changing experience for Ferrigno, as she can help kids who are going through similar experiences her friends and she have experienced.  By raising money they were able to donate 1,000 boxes to kids on the Navajo reservation who lost a parent due to COVID.
Kohrs started her service work in middle school.  She volunteers at Saint Vincent De Paul, has been a volunteer at Seeds for Autism for three years and was in charge of the backpack drive at Xavier last year, which she plans to continue this year.
At Seeds for Autism, the people with whom Kohrs works range from teens to young adults. She volunteers to help autistic adolescents and adults with motor skills and socializing. 
A special experience Kohrs remembers is being asked to come over on Saturdays to play ping pong with one of the teens. Through this, she said the teen's personality started to come out and everything became more comfortable. From this experience, she gained a friend and it was meaningful to her. 
Ourso admits that she was not always the biggest steward to her community, pushing it aside and claiming she didn't have enough time. However, Ourso has learned that she can always make time to serve the community.
Ourso lost her grandmother to small-cell lung cancer, which she said isn't typically diagnosed until stage four. This summer she organized a fundraiser and awareness for small-cell lung cancer. 
Ourso planned a yoga event and all of the money was donated to research for this type of cancer. She chose yoga because it has the message and goal of stewardship. She describes it as bringing peace and love into the world by connecting with your inner self.
Ferrigno, Kohrs and Ourso believe stewardship is important to create well-rounded communities that help, support and take care of each other. They plan to continue their stewardship going into college, and Ferrigno hopes to expand her organization into other states.