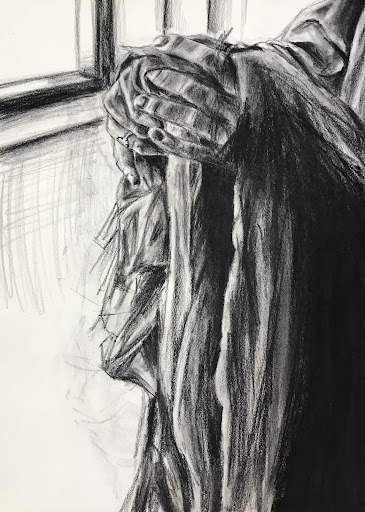 For nine of Xavier's most talented artists, third period is a time to hone their artistic abilities and spend time with an incredible group. AP Studio Art is a prestigious class taught by artist Alison Dunn.
According to Xavier's course descriptions, AP Studio Art is a class offered to seniors who are previously recommended by an Advanced Drawing and Painting teacher. Throughout the year-long course, students complete 16 works of art based on various themes and topics that are added to their student portfolios.
Dunn has an impressive resume. She has three degrees and is the department chair at Xavier in Studio Arts, but alongside that she teaches six art-based classes. Dunn said that while she took art classes in high school that she enjoyed, she did not obtain her masters in painting until after completing her college education and teaching humanities at Arizona State University. This degree is what led her to teach AP Studio at Xavier College Prep. 
Student Mary Virginia Vietor speaks on the amazing community this class has formed, "I'm really close with all the girls in my class. We are constantly giving each other inspiration and support." Vietor also says AP Studio is a class where one has to find her own sense of creativity, something with which having such a close bond with her like-minded classmates has helped. 
Another student, Riley Dowdall, says the best part of the class is "the investigation, finding what you're truly passionate about." This is a common sentiment that was echoed throughout students in this course.  
Dowdall adds that this class is specifically different from other art classes because of the creative freedom. Throughout this course, Dowdall says, students are forced to "find their own creative voice" rather than confined to super-restrictive prompts. From there, Dowdall mentions how AP Studio encourages students to drop the need for perfection in their art and to think outside the box.
Vietor spoke of her methods with  adjusting to this creative freedom saying, "I write down a lot of ideas as they come to me. This year I've had to grow more receptive to ideas and inspiration." Vietor expressed how both of these practices have helped her be more attuned to her creative mindset.
Dowdall noted that she feels the best way to get past creative blocks is to allow oneself to make mistakes. This way you have to adapt and incorporate said mistakes into your work. 
When stuck in a creative block, "Go and look at as much art as you can," or "write instead of making paintings," explained Dunn.  
Additionally, Dunn shared some knowledge on how to deal with unsupportive peers. She spoke about how being "comfortable in doubt" and willing to listen to others and use criticism to one's advantage will allow the artist to overcome harsh judgment. 
While sharing a particular instance in which she was critiqued for having "too much yellow" in her work, Dunn used that comment as motivation to make even more yellow paintings which she used in not only her graduate thesis show, but also in her first show at Scottsdale Arts Center. Dunn achieved the showing at the arts center through those yellow pieces in her thesis. 
Dunn said that through this instance and many more like it she used comments from "the haters" to "juice her up" and motivate her to create art she was passionate about. 
Vietor gave advice to any incoming freshwomen that if she wanted to advance her art skills during her time at Xavier, she should take art as her elective so she will have all necessary credits for AP Studio. She shared her personal experience of having to try to fulfill all necessary credits her junior year after taking theater as an elective freshman year. 
When speaking about what's  important for young artists to remember, Dunn gives these words of advice, "Get to know who you are, explore the world and read as much as you can."