ASU Gammage: Connection made to audience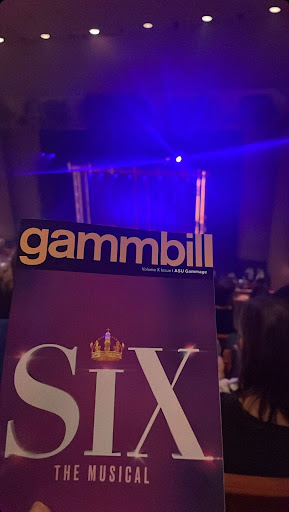 No matter where you are in the world, there will always be music, dance, theater and art. Whether you are going to see "SIX" the musical at the Richard Rodgers Theater in New York City or "Wicked" in the Chicago Theater, when it comes to Arizona, one question remains: "Are the productions at the Gammage worth your time?" 
In 1957 ASU President Grady Gammage had a vision to create a wonderful theater on the brown, dirt, sand he stood on. He called in a friend, Frank Lloyd Wright, to create what is now the ASU Gammage.
According to the ASU Gammage website, Wright said, "I believe this is the site. The structure should be circular in design and yes, with outstretched arms, saying 'Welcome to ASU!'"  
Now open for 58 years and seating 3,000 people, the Gammage has felt the presence of artists such as Mary J. Blige, Elton John and Johnny Cash. Major productions performed all around the country have seen the eyes of the stage: "The Lion King," "Phantom of the Opera" and "Hamilton." 
Anne Kopp , XCP Drama Club officer and season ticket holder at the Gammage, said, "'SIX' was my favorite Broadway show that I saw at Gammage. It had so many elements in the show I just really liked."  
"SIX" tells the humorous story of the six wives of Henry VIII. They recount the most horrible experiences they suffered from their ex-husband. This musical seems to differ from others because of an unusual edition that creators, Lucy Moss and Toby Marlow added. 
"SIX was only an hour and a half, contrasted with most musicals which are two or more. It also felt more like a concert; it was more connected between the actors and the audience. I like the different perspectives this Broadway show gave. It made me feel connected and a part of the show," Kopp said.     
Erin Regan, ASU Alumna, teacher and Gammage season ticket holder said, "I was beyond ecstatic to see 'Hamilton.' It was very distinct from other plays I had seen in the past. There wasn't much dialogue. It was just two straight hours of incredible songs. These songs really helped me learn about history and about the life of Alexander Hamilton." 
Mary-Kate Fabyanic, first-time season ticket holder and theater participant said, "I've always loved the theater, and when my mom and I became season ticket holders she took me to see 'Wicked.' That was definitely my favorite show."   
"Wicked" is an adaptation from "The Wizard of Oz" and takes place before Dorothy explored the land. It is told through the perspective of the witches of the land of Oz and tells the story of two unlikely friends Elphaba, the wicked witch, and Glinda, the good witch. 
Executive director of the ASU Gammage, Colleen Jennings-Roggensack, proclaims that ASU Gammage has had the  motto "Connecting Communities," for 31 years now. The ASU Gammage strives to make a difference in  lives and wants students to feel connected to the arts. 
"I've not only connected with theater but I've also connected with my students. I've been taught by many plays that I've seen in the past- how putting words to song can affect my students in positive ways. My students are able to get up on stage and perform not only to me, but to their parents as well. They radiate true confidence when they are on stage," Regan said.  
Regan, Fabyanic and Kopp all agree that the theater has something more magical than just the music being sung.
"For those who have never been, definitely go to the Gammage. You get to experience a lot of different culture in your life. It was more about connection and being a part of something special," Regan said.