Class of 2023 upcoming fashion show 'blooms'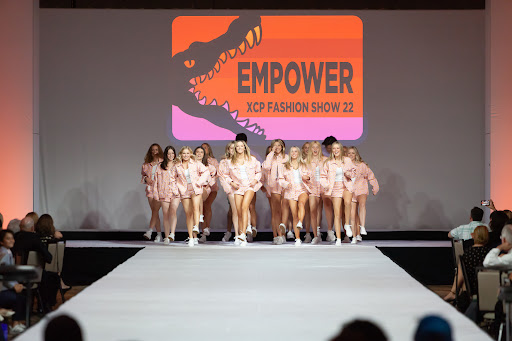 On March 11, the graduating class of 2023 will be featured at the annual Xavier fashion show. The event will take place at the Sheraton ballroom in Downtown Phoenix. 
The fashion show will benefit the Xavier scholarship fund, giving young women a chance to further their educations. Money will be raised and luxury prizes will be up for auction. Last year's show surpassed $300,000. This year's goal is to exceed that.
"I am hoping we get close and hopefully push it over the top," said Karolyn Stayer, Xavier fashion show chair. 
In early January, students signed up and started their weekly rehearsals for the upcoming event. They eagerly awaited to hear which group moms they drew, as well as which theme was chosen for the show. Group moms are assigned to guide seniors in their dances and prepare them for the stage. 
Planning the event takes months of preparation and planning. "We couldn't do it without the help of so many in the community," said Stayer. 
Each year there is a different "theme." This year's theme is "Bloom," and it's about the beautiful process of becoming and it's a representation of the senior class, Stayer added. 
"It felt so fitting as we send our seniors off to the next chapter of their lives," Stayer said.  
Over the past four years, the class of 2023 has gone through its ups and downs. The Covid pandemic of sophomore year put a damper on things. Getting to finish out senior year on a high note is well-deserved.
Senior Lillian Ash described the event as "a fun opportunity to get together with your friends and get closer with them during the last year of high school."
The seniors will take to the runway while wearing formal apparel and matching outfits. There will be 12 entertaining dances performed in assigned groups, concluding with a parent tribute.  
Taylor Van Arsdall and Kristina Nagaran, dance alumnae of Xavier, have choreographed the dance performances for several years. "I think it is cool to have a connection with the senior class," said Van Arsdall.
Van Arsdall described last year's show as "a huge hit, music-wise, with a lot of positive feedback." 
The group dances are all unique and different.  "Each group has a theme song from a movie or decade and we dress according to the themes and the dances," said Ash. 
The Xavier fashion show gives seniors a final spotlight to shine with their peers. It is open to everyone who wishes to congratulate the exemplary class of 2023. 
Stayer calls it, "The must-see show of the year!"