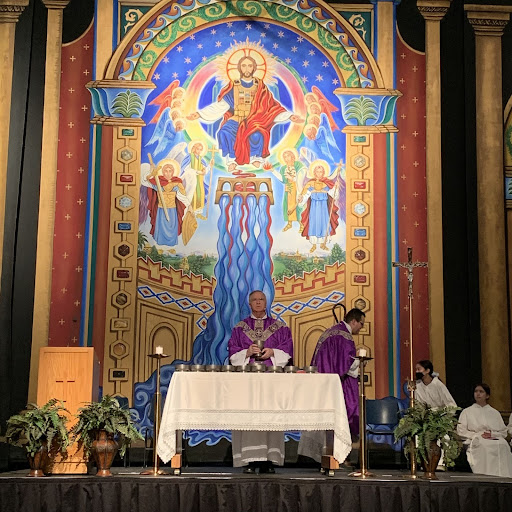 Many holidays and traditions are celebrated at Xavier every year. One of these many traditions is the Bishop's Mass, also known as the Bishop's Holiday.
The first Bishop's Mass was started under Bishop Thomas O'Brien. "He wanted to go and meet with each of the high schools, so he would set up a time once a year where he would come," Principal Joan Nuckols said.
This once-a-year occasion allows students to connect with the bishop and celebrate a special Mass with him.
Brianne Pennington, assistant campus minister, says, "Even when I was a student here, he typically came around the time of the Roe vs. Wade anniversary. He would come for the 'Respect Life' Mass during January."
This tradition was continued by Bishop Thomas Olmsted after he was appointed in 2003. The Bishop's Mass was very important to the Xavier Community since it also happened to fall on his birthday.
However, this year's Bishop's Mass was held on March 16, and was led by newly-appointed Bishop John Dolan. He visited Xavier's campus and held a Mass with the student body for the first time, allowing students to learn more about him and his story.
His story goes back to when he was a senior in high school.
Dolan had not considered entering the priesthood until he severely injured his shoulder his senior year while wrestling. "My sister then told me," said Dolan, "to consider joining a youth group, so I did." This led him to join the St. Francis Seminary, where he studied to become a priest.
Before coming to Phoenix, Dolan served as a diocesan priest in San Diego, California where he was later asked to become an auxiliary bishop in 2017. He then became the Bishop of the Diocese of Phoenix.
"If I didn't blow out my shoulder, I don't know where I would have been," Dolan says.
One of Dolan's goals is to raise mental health awareness, especially in high schools. "The office that we have for the mental health ministry [is not] there to prescribe or diagnose a person. We're there to recognize that we all have our slight disorders," Dolan says.
Dolan wants to help educate people about what mental health is and how it relates to the church. He also wants to reach out to people who have struggled with their mental health or experienced loss to suicide to help them find peace of mind.
"None of us are ordered. God is ordered and the rest of us are in the same world," says Dolan.
The introduction of Bishop Dolan to the Xavier community was inspiring. Through taking "selfies" and interacting with students after Mass, he quickly connected with the student body.