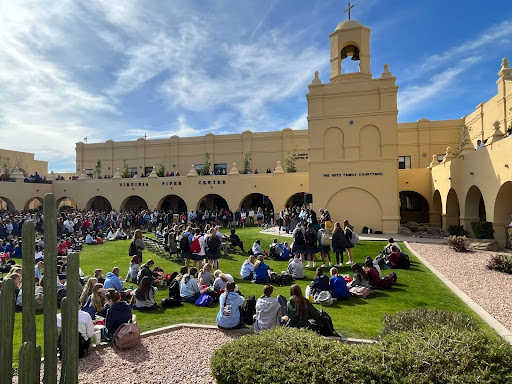 On March 7, Xavier hosted members of Brophy's Native American Club to hold an assembly, speaking about the ongoing mission to save sacred land, Oak Flat. Accompanying the Xavier and Brophy students were members of the Apache Stronghold.
The Apache Stronghold is an organization that, among other things, defends holy sites like Oak Flat.
Oak Flat, located in Tonto National Forest, is sacred land facing the danger of being bought by Resolution Copper Mining LLC.
Berdina Riggs '23, a member of the Native American Club, emphasized the importance of having "youth voices heard" through work in the community. 
Dr. Lian BigHorse echoed the same sentiment at the assembly saying, "I would like students to understand they are our next leaders… so understand the power will be in your hands to make change."
BigHorse has stood at the fight's front lines to save holy land for the past 18 years. She described this fight as, "A holy fight for protecting what we have spiritually and religiously, not just for the Apache people but for all." 
Both Riggs and BigHorse mentioned how these experiences have helped both women grow in their faith. Being connected to the land is "sublime" according to BigHorse. 
Riggs said that through her participation in the fight for Oak Flat she was able to connect more with her heritage. "It's (Brophy's Native American Club) gotten me more involved in my culture," Riggs said. 
Riggs mentioned that through her participation in these events she's been able to visit her reservation more often, almost every month in the past year.   
The assembly's importance and impact were clear to students who witnessed. Macy Bonnet '25 said, "This assembly brought it [the issue of Oak Flat] to the front of my attention. It was inspiring to bring the entire student body, of an all-girls school, to witness a group of strong women speak about such an important topic."
Bonnet went on to speak about how she would like to know more ways for students to get involved in preserving these holy sites, especially Oak Flat. This was something about which both Riggs and BigHorse have ideas. 
BigHorse spoke about contacting elected leaders and encouraging them to support the Save Oak Flat Act. Along with this she expressed the importance of prayer above all else. "We need your prayers in this holy fight," she said.
Riggs mentioned that the Native American Club has made a variety of QR codes that students can use to send messages to Arizona's leaders. These messages would let the representatives know that whoever scans the QR code stands in support of the fight for Oak Flat. 
BigHorse emphasized the importance of both prayer and awareness for the cause."It is through prayer we have gotten this far and we will continue to pray going forward," she said.