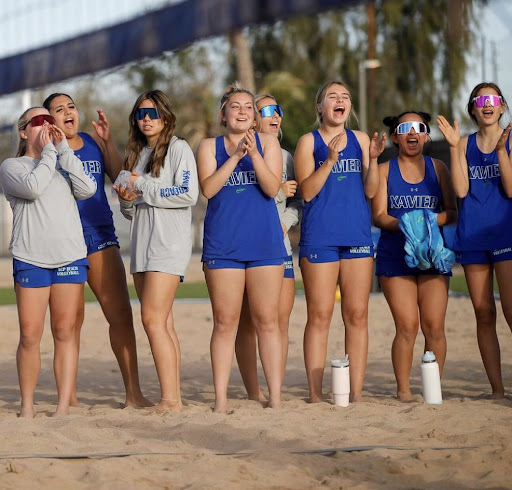 On April 24, the Xavier Beach volleyball team competed against Sandra Day O'Connor in the AIA Division 1 state semifinals. Despite a tough team loss, Xavier Beach remains 1st in Section ll and 4th in Arizona. 
During the 2022-2023 season, the team finished the regular season with an 11-1 record, losing only to their rivals, O'Connor. Its match on Monday night ended in a close 3-2 win for the Eagles. This win led the Gators to an overall record of 13-2, closing out the season. 
Last year, Landree Coats '22 and Summer McCann '23 grasped the gold in Division 1 state pairs against O'Connor. This year, Xavier played the Eagles with anticipation of taking home all titles. 
Head coach Timothy McHale is an avid coach and mentor for the girls. McHale is passionate about the sport and about the dedication he sees in the girls. With his passion and excitement, he believed the Gators would have an excellent shot at state this year.
The team has built strong bonds and trust in one another. Carrying such an extensive team with strong, competitive players is crucial. 
"The diversity, personalities, the backgrounds, the style of play. They all love each other, and I think that's the cool thing," said McHale. 
Senior Noelle Peterson has been in the program for three years. Peterson is appreciative of the experience she has had with this team; getting to know each player and uniting as one has been important for her.  
"Playing beach is a little different from a team sport. You have your partner, but if you lose, it's reassuring to know that your whole team is still behind you. You can still walk out with a win," said Peterson. 
Xavier Beach has eight seniors, six juniors, one sophomore, and nine freshmen. These eight seniors will leave for college at the end of May. Even though it will be an emotional goodbye, seeing new blood in the coming years will be great for the program and next year's success. 
Freshman Vivian Hickman is closing out her first year on the beach. Hickman has created a strong foundation with her team this year and is excited for what's to come. 
"I like our team chemistry and the friendships I have created so far," said Hickman. 
Creating a comfortable environment for the team has been a top priority. The group engages in lunches, themed practices and bonding activities on and off the court. 
This chemistry and companionship will be essential for Xavier Beach in the coming years. Despite adding a loss to their belts, the Gators carry it with ease. Xavier Beach individual and team achievements have been encouraging.