Seniors on to a Runderful life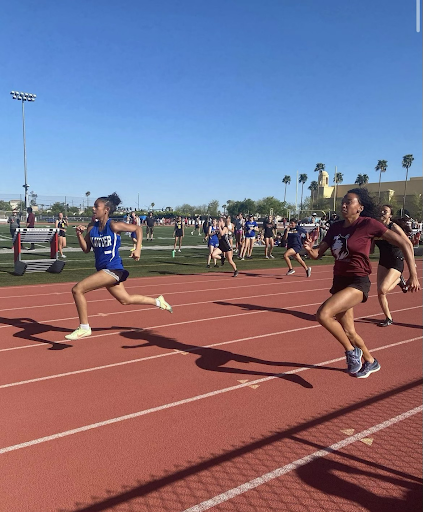 Track and field at Xavier College Prep is one to be seen as fun and a bittersweet experience for most of its athletes. Athletes like the seniors in particular.
Seniors like Emily Manuelito '23. Manuelito shares that she felt much support from her teammates and coaches. Manuelito runs the 1600, 3200 and the 4×800 meter relay.
"I liked that my coaches pushed and always supported me, even though I'm happy to be done," Manuelito said. 
Track coaches Dave Van Sickle and Jarret Eaton at Xavier are known for pushing their athletes for not only the track meets, but also for life by using workouts and emphasizing healthy eating and workout habits on and off the track. 
Madigan Moran '23, shares this mentality and feels like it has pushed the team to become the best version of itself. Moran has run the 100 meter, 200 meter and the 4×100 meter relay.
"I like the team's ability to push each other to be our best, I'm also excited for a new chapter in my life. My team has given me so many lessons, memories and blessings," said Moran.
Morgan Finch '23 agrees with Moran saying, "We pushed each other to our limits, cheered each other on, and supported each other." Finch spends her time in the 300 hurdles.
The combination of the positive team atmosphere and the drive made for a different season from the last.
"This year was definitely different from last year. I like the fact that you could feel yourself improving throughout the season. I love the community because the girls are super supportive" said Samantha Patton '23,  an 800m runner. 
Many athletes improved greatly. On April 6, Maya Ofori '24 competed in the 100m dash and set a school record of 12.34, scoring herself as the fastest in Xavier history. Junior Mackenzie Lopez is ranked 5th place in the 300 hurdles, making Xavier's All-Time Top Ten in that event. 
As the season comes to an end "it is both sad and exciting to have my last season with XCP track. It has been a year full of PRs and meet wins for everyone and we have such great team chemistry," said Mia Feix '23, a heptathlete.
Alma Mendez's '23 biggest takeaway from last season as a Gator is the bond the team created as they trained hard throughout the year. "What I love most about track is the bond between the teammates since all of us on the distance team train almost all year together." Mendez ran the 800m and 1600m.