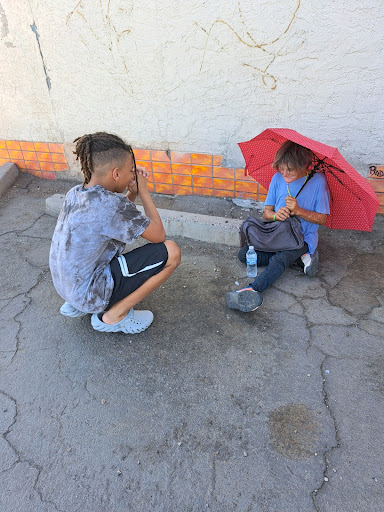 It is no secret that Arizona's weather produced an unrelenting amount of intense heat this summer. Abnormal temperatures can be very uncomfortable. However, they can be especially worse–deadly–for the homeless population, who are especially vulnerable, lacking shelter and drinking water. This makes it quite urgent that we consider how to help those who are experiencing homelessness during the summer months.
According to the Arizona Republic in August 2023, "In 2020 and 2021, the number [of heat related deaths] topped 320. Last year 425 people died in some way related to heat, about 42% of whom were homeless." 
As the sprawling urban development of Arizona continues to evolve, so do the record-breaking, triple-digit temperatures. Combined with the perpetual sunshine, intense summer heat, and naturally arid desert climate, there is a constant amount of high air pressure in The Grand Canyon State. 
During the summer of 2023, Arizona broke yet another heat record. According to the Public Broadcasting Service (PBS), Phoenix hit 110 degrees on 54 days in 2023.  
Rhonda Golden, director of Xavier bookstore operations, has always held a special place for selflessness and charity in her heart. She decided that she could no longer stand to do nothing and leave the homeless population of Phoenix outside to suffer in the excruciating heat.
"Initially, I would load my car with packages of bottled water and hand out bottles whenever I saw a person in need. I especially targeted Van Buren Street." 
However, she decided that she needed a more effective strategy, one that could impact a greater number of people as well as show others around her this issue firsthand. She introduced her idea to Tara Metzger, assistant to the president and principal of Xavier. 
Metzger was instantly fond of the idea and she and her son, Robert, joined Golden. Golden also added her grandson, Cam Benson. 
"Due to the heatwave surge in July, we started by giving out umbrellas and frozen water bottles. From there, we evolved to Powerades and food bags we assembled together, as well as dog food for those with pets," Metzger said.  
Golden added, "My neighbor assembled bracelets that went around the lids of the water bottles. They acted as a symbol of hope and reassurance in the community that there was someone to look after them." 
According to Metzger, the team never usually sees regulars, but the bracelets created a sense of community amongst the people, and one woman in particular was so fond of it that she requested more. 
Since then, Metzger and Golden have introduced the service project to We Are Xavier (WAX) and Gator-Aide, clubs at Xavier. During its first meeting, members of Gator-Aide assembled bracelets for the team to use during future trips.
The team has met a total of three times since July and has given out 64 food bags and 132 umbrellas. In the winter, they hope to shift from umbrellas to blankets for the transition into colder weather. 
Most importantly, Metzger and Golden are working on getting more Xavier students involved in this service project. Since they've begun, the four have undergone a mentality shift for the better. They have shifted the way they contribute to their community. Robert and Cam are especially grateful for this experience and urge others to join them.
"I hope we can expand this project by finding more ways to raise money so we can give more often and assist more people with the items they need," Benson said.
"It's very important to me because it's the right thing to do for the people who are struggling out there and I want them to be blessed as much as I am. It was very fulfilling just to see them smile," he added.