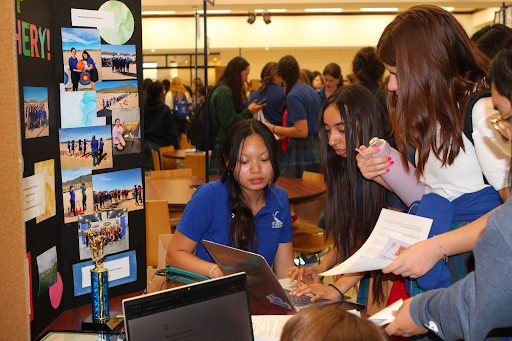 In August, Xavier College Preparatory hosted its annual club fair for students. Students quickly rushed to sign up for new and previously-done activities.  
With 75 clubs at Xavier, there is always a place for students to find their passions and chances to find new skills and friends. This year the school decided to add additional clubs, Sailing and Astronomy, hoping to provide new opportunities for students. Upon Adrienne Hestenes' return after a leave of absence, the Astronomy Club was revived. John Riddell, Xavier's Sailing Club moderator, brought sailing to Xavier.    
Ten years ago, Hestenes, Astronomy Club moderator, started the club in hopes for students to find a new passion. With the club's growing popularity, it soon became a class elective. When Hestenes left the school, the elective was disbanded. Once Hestenes returned to Xavier, she was questioned about whether she was going to bring the Astronomy Club back. By popular demand for its return, she reinstated the club.
Astronomy, commonly mistaken for astrology, is a club meant to allow students to find an outlet to explore the universe and learn more about what they'd want to study in their futures. "I feel like when you ask someone what they want to be when they grow up it's always medicine or law, but I feel like nobody ever says astronomy," said Nitya Reddymasu '25, Astronomy Club secretary. 
"Astronomy brings together so many different fields. We're looking at exobiology today but we might be looking at geology tomorrow," said Hestenes. "Astronomy is the study of the universe as a whole so there is something for everyone."
From Kahoots! with 3D glasses, club meetings are often fun and interactive ways to teach astronomy and space. The club has many ideas, such as making models of the solar system and star charts.   
The club is planning on hosting many out-of-school activities; for example, looking through telescopes at night and touring Arizona State University's observatories. "We'd like to visit all of the astronomy facilities at ASU, and they do give tours to school groups," said Hestenes.  
Ava Sharett '24, Astronomy Club president, said, "For students interested in astronomy and space, this is an outlet."
John Riddell, the Sailing Club moderator, has been a part of sailing his entire life. He believes that the skills people learn from sailing can be shown through the way people approach life. 
"The way I approach life in one way, shape, or form I learned on a sailboat and probably learned while racing a sailboat," said Riddell. "I wanted to give my kids the same thing."
Riddell wants to give teens the same opportunity he had sailing, hoping to teach the moral lessons he learned on the seas. Sailing is a lifelong skill that is something students can use throughout the rest of their lives. He hopes to teach high school students a new talent and allow them to bond over the sport.  
Brooke LaRocco '25, a member of the club, has been sailing for six years. She joined the club to bond with other students who share the same interests and to get more practice. "I would gain good practice and more techniques, and since I'm experienced [I would] probably travel to compete in regattas," said LaRocco.  
Xavier's Sailing Club meets at Lake Pleasant and provides a hands-on experience while learning the ropes, so to speak. Along with the experience, the club also provides instructions on land, like how to tie knots or what are certain parts of the boat.  
Riddell said, "We are not meeting in a classroom on campus and discussing the theory of sailing. We will be out on the water."
"This club will help those who haven't sailed before to try something new, and maybe they'll be good at it or make new friends," said LaRocco.