Xavier seniors sign athletic letters of intent
Seniors and varsity soccer players Natalie Duque and Qui Qui Hita signed collegiate letters of intent on February 1.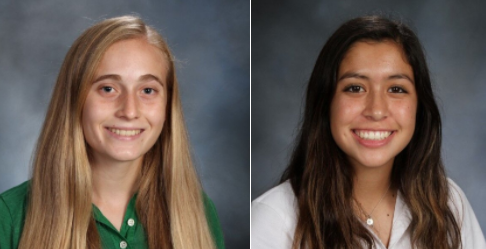 On February 1, 2017, Xavier witnessed a great day for their soccer stars. Seniors Natalie Duque and Qui Qui Hita signed their letters of intent to play soccer at the collegiate level. Natalie is committed to play at Benedictine University in Illinois, while Qui Qui is committed to the University of North Carolina at Greensboro.
     Both girls are on the Xavier varsity soccer team, which has only lost two games this season and is currently playing for the state title. On February 8, the team will play the sixth seed, Perry High School from Gilbert, in the state semifinals. They recently defeated the seventh seed, Pinnacle High School from Phoenix, in the state quarterfinals with three wins and only one loss.
On signing to the University of North Carolina at Greensboro, Qui Qui said, "The greatest part of the day was to see my entire family with their UNCG gear on and have them all there to support me. My friends also came to support me and it was amazing to see all the support that I had!"
Qui Qui is also excited to meet her fellow teammates next year, commenting, "I'm really looking forward to meeting the team and getting close to them all because I've heard so many good things about bonding with your college soccer team and it's so exciting."
     Xavier is extremely proud of Natalie and Qui Qui on their tremendous achievement. Congratulations girls!