Bohemian Rhapsody: a review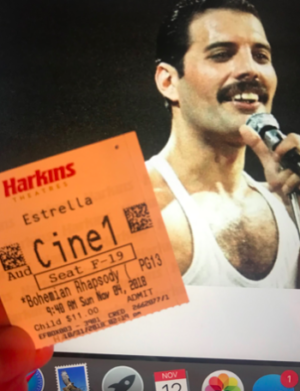 Hang on for a minute...we're trying to find some more stories you might like.
   "We Will Rock You", "Another One Bites the Dust", "Don't Stop Me Now". Pretty much everyone has heard of the rock band Queen or has at least listened to one of their many smash hits. Bohemian Rhapsody, a biopic currently in theatres, highlights the ups and downs of Queen's career and particularly the life of the band's frontman, Freddie Mercury.
   Mercury has been widely considered as one of the most iconic lead singers in rock music.  He was famous for his raw vocal talent and for the way he publicly presented himself, as he constantly defied society's gender roles. His flamboyant outfits and energetic on-stage persona challenged the notion of what it meant to be truly "masculine", creating a space for gender-bending artists, like Janelle Monáe that are popular today.
A point that Bohemian Rhapsody heightens is the fact that Freddie Mercury was one of the first mainstream Asian rock stars. The dynamic frontman was born as Farrokh Bulsara to Indian parents in what was formerly known as Zanzibar, but Mercury often kept his heritage hidden. The biopic clearly states Mercury's ethnicity while also dramatizing it to send a message about diversity that would appeal to everyone.
The legendary status of Freddie Mercury makes him a perfect topic for a biopic. After all, who doesn't love an incredibly gifted singer with a bold personality? However, Bohemian Rhapsody does not just showcase the fun aspects of Mercury's life, but also reminds us of his human problems. Mercury struggled in his relationships, both romantic and platonic. Because of this, he often felt alone. The film definitely brings attention to this, with Mercury's isolation depicted through multiple poignant scenes.
The film takes an even more serious turn when Mercury is diagnosed with AIDS, a fatal disease. Because he realizes that his life is almost over, Mercury decides that Queen must participate in Live Aid, a huge benefit concert where all of the ticket proceeds would help the starving victims of Africa's 1984 famine.
Critics are a little skeptical of Bohemian Rhapsody, saying that it is a "sugar-coated" version of Freddie Mercury and Queen's story. Some moments in the biopic are a little exaggerated to move the plot along, and some events are not entirely accurate. However, one thing that most people are raving about is the film's outstanding recreation of Queen's Live Aid performance at Wembley Stadium. The famous concert was recreated and brought to life with painstaking detail and looks scarily just like the original Queen performance in 1985. The Wembley Stadium show begins with a beautiful rendition of "Bohemian Rhapsody" and ends with a tear-jerking, emotionally charged "We Are The Champions."
If you are a fan of Queen, classic rock, or music in general, then you will absolutely enjoy Bohemian Rhapsody. It is a movie that is hilarious, lively, and heartbreaking all at once. If seeing in theaters soon, make sure to bring some tissues.