Michelle Lowenberg '01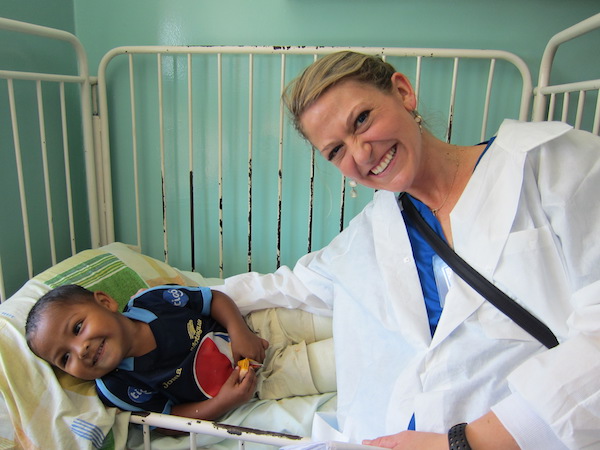 Hang on for a minute...we're trying to find some more stories you might like.
During her time at Xavier, Michelle Lowenberg, '01 was a member of the tennis team as well as the Student Body President.  After Xavier, she moved on to University of San Francisco (USF), where she played collegiate tennis. During her time at USF, Lowenberg double-majored in International Business and Spanish. At USF, Lowenberg had a Spanish professor who strongly believed in the power of volunteerism in the developing world and required that each of her students study the language in a developing country. As a result, Lowenberg spent six months in a small town where she helped set up the non-profit, called Operation Rainbow in Ecuador, that focused on empowering women with education.
Operation Rainbow is a forty year old non-profit organization that provides free surgical care to children and ongoing education and training to medical staff in the developing world. During an average year, Operation Rainbow provides fourteen medical missions that change the lives of more than 1,000 children with medical care and trains another 300 medical professionals to ensure the needs of the indigent children and their families. Their mission teams have been established in Bolivia, Venezuela, Haiti, Peru, Ecuador, Dominican Republic, Guatemala, Honduras, El Salvador and they plan on expanding even further around the world.
Lowenberg went on her first medical mission with Operation Rainbow to Ecuador where she served as a translator to the medical team. She was extremely passionate about her work and the dedication of her time to volunteering for Operation Rainbow, which ultimately led to her becoming the Executive Director in 2016.
Having graduated from Xavier, Lowenberg holds a lot of pride in being an alumnae. She holds certain that one of the things that inspired and most impacted her was her experience at Xavier. Not only did she receive the most incredible education, but she gained an appreciation for giving back to the community and the world around her.
The Xavier community has changed Lowenberg's life in that her perspective on life has evolved into something bigger; Lowenberg shares that, "the community around you is an incredible one – one that can support you and that you should thrive to support. Never forget how powerful you are together and how much your community cares about you."
The message she hopes to pass on to Xavier is, "to never stop inquiring and never stop searching for what makes you most passionate. Find what drives you and excites you in your life and future careers and pursue this." She also wanted to share a message of gratitude to the Xavier community "for all you do and will continue to do for the world making it such a better place".