Sisters of Life come to Phoenix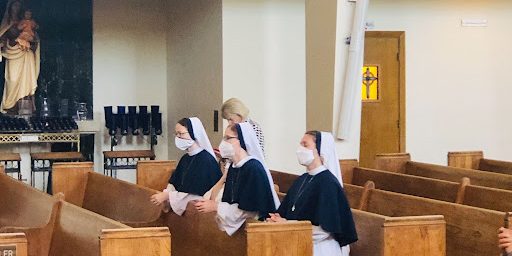 A religious order, Sisters of Life, has recently made its way from New York to the Valley of the Sun. Just one month ago on September 8, the sisters arrived at the St. Agnes parish which is where they will reside.
Mission coordinator Sister Bethany Madonna said, "Our mission is to proclaim that every human life is sacred."
The sisters serve pregnant women in crisis situations and connect them to resources as well as accompany them throughout their pregnancies and beyond. They also speak throughout the country and help women post-abortion to know God's healing and mercy.
Once a month the sisters will go to ASU's Tempe campus to be present to students or better known as "spiritual accompaniment." They give talks to young women and proclaim the dignity of the human person.
The founder of Sisters of Life Cardinal John O'Connor, who established the order in New York on June 1, 1991, said there are no Sisters of Life without joy and that "they will love, they will love, they will love."
Part of their message is that in every life there is joy and it's worth celebrating. 
Sister Magnificat Rose said, "Through our union with Jesus and life of prayer, the Sisters of Life proclaim with joy that every human person is unique and unrepeatable, made in the image and likeness of God."
On Friday October 1 was the first night the sisters spent in their convent, as it was under renovations.
Brianne Sanford, Xavier's campus minister, met and helped the sisters move in. "They are so wonderful! I'm excited to see the work they will do in Phoenix," said Sanford.
As religious they take a vow of obedience that Sr. Magnificat said helps them "discover a deeper freedom."
They were sent on a mission to Phoenix by their mother superior, Mother Agnes. Sr. Magnificat said she believes that being chosen to come to Phoenix was "God's will for her."
They are grateful for the warm welcome they've received and for everyone's help as they settled in.
"All the sunshine in Phoenix is definitely a sign of people's warm hearts," said Sr. Madonna.