New York choreographer leaps into Xavier's dance classes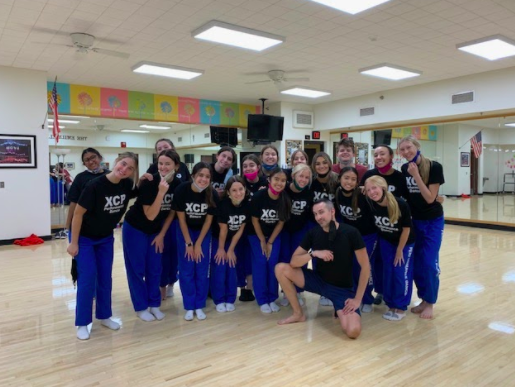 Every year, the Xavier dance department brings in talented guests, ranging from ASU Gammage National Tour performers to choreographers from professional companies throughout the country. This year was no exception.
"We're so lucky here at Xavier because Sister Joan and Sister Joanie always allow us to have one residency per year, so we try to bring in a guest from somewhere interesting in the country," said Mary Anne Herding, a dance teacher and the head of Xavier's dance department.
This year, Herding chose an Arizona native who has thrived in companies throughout New York City, Chicago, Philadelphia, Baltimore and Phoenix: Aaron McGloin. 
"I went to see a show at Scottsdale Community College a couple years ago and he set a piece on their dancers and I really liked it. It was very athletic and kinda cool and funky, so I emailed him," said Herding. 
McGloin graduated from Arizona State University with a BFA in choreography. In 2008, he formed his own company, Aaron McGloin Dance (AMD) with hopes of creating "honest and ambitious art with an eclectic sensibility." 
AMD is constantly creating new choreography, performing in numerous venues throughout the country and hosting workshops with thousands of aspiring or professional dancers in attendance.
"I always love coming back to Arizona to work with the dancers here. There is so much great dance happening all around Phoenix and so many talented dancers – any time someone reaches out for me to come back to teach or choreograph I try to make it happen," McGloin said.
McGloin taught the entire dance department for one week, allowing every dancer to have the opportunity to learn from his expertise in a Master Class setting. 
The Performance Dance class had the opportunity to learn choreography directly from him. Herding said, "In those four days, he sets a whole piece, which is a huge task."
"I had a great time working with the dancers," McGloin said. "Everyone was energized and ready to work hard which always makes it more fun for everyone – especially when we're trying to get a lot done in a short amount of time.
McGloin's use of contemporary and modern dance styles resulted in a unique dance for the class. Sabrina Le '22 said, "His teaching style was really interactive and his choreography was out of our comfort zone in the best way."
The dance debuted at Eighth Grade Day in October and will be performed again in the near future. 
"I'm really excited to see this dance on stage – we had a lot of fun making it and I think audiences are really going to enjoy it," said McGloin.