Basketball coach journeys to greatness with her team
Campbell Linaman, Managing Editor and Best of SNO award-winning writer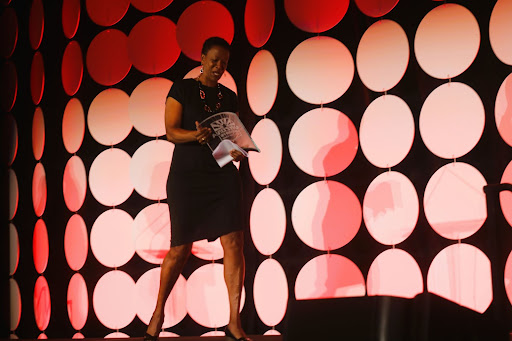 She always knew that basketball was what she wanted to do with her life. Ever since the first time she played with her cousins on a "dirt court" as an eighth grader. She would spend all her time playing basketball, from morning to night. That is when she knew that it was her passion and that she wanted to play forever. 
On November 1, 2022, at Chateau Luxe, Jennifer Gillom, Xavier College Prep teacher and head basketball coach, was inducted into the Arizona Hall of Fame. She was joined by friends, family, former players she coached and the whole XCP basketball team. This night, Gillom also became the first Phoenix Mercury to join the AZ Hall of Fame, proving to be a "Mighty Mercury," just like the title of the Mercury's theme song.
She joined the AZ Hall of Fame along with former Arizona Cardinal Larry Fitzgerald, Seton High basketball coach Karen Self, sports philanthropist Michael K. Kennedy, Northern Arizona University women's basketball pioneer Peggy Kennedy and former ESPN journalist Pedro Gomez. 
When choosing candidates, the AZ Hall of Fame strives to "honor athletes, coaches, administrators and others who have made significant contributions to Arizona sports." Since Gillom stepped onto Arizonan soil, she has put heart and soul into everything she touched.
Gillom was one of the first people to not only form the first Phoenix Mercury team but to be a part of the first draft class of the WNBA in '97. In 1998, Gillom reached the WNBA finals but lost to the Houston Comets. Though she lost the series, she won something bigger, respect. Respect from other athletes in a sport that before was known to be male-dominated. 
Retiring from her six-year WNBA basketball career with the LA Sparks marked a new era for Gillom, an era where she would come to be known as "Coach Gillom."
In Gillom's induction ceremony video, her former college basketball coach, Van Chancellor said, "I had no doubt in my mind and knew that she would be a great coach. She loved the game, she had a passion for basketball, and she loves kids. They just gravitate toward her." 
In 2004, Gillom was given the chance to coach at Xavier. Throughout her time as a high school basketball coach, she came close to winning a championship for the high school twice. This did not discourage her to keep trying and she decided to "always look at the positive side of things."
Compassionate. Determined. Dedicated. Inspiring. Motivating. Hardworking. Courageous. Those are some of the words her players use to describe her as a person and a coach. 
In her induction ceremony speech, Gillom said, "There's still work to be done and that is to win the first [basketball] title in [Xavier's] history and then I can rest." This season is no different from the others. Again Gillom and her players are on a mission, to win it all. 
Gillom leads her players with the philosophy that coaching is an ongoing mentorship. She wants her players to be successful on and off the court and believes basketball should be played with passion and should be fun.
"This year's roster is well-balanced. They are all good players and [they] bring something unique to the table. We can score and defend well. If this team continues to work hard and stay consistent we have a good chance to win a championship this year," Gillom said.
At this time, it is still too early to tell how far the team will go this season but the players are determined to put in the work. 
Sarah Nakamura Miller '24 will start off the season on the bench recovering from an injury but believes that there is more than one way to support the team. "My biggest contribution, I feel, is giving my IQ and being there for my teammates supporting them, cheering them on, and giving them advice on things that they can't see while they are playing," said Miller.
This season is senior Sienna Cherwinski's last and she hopes to be able to leave her mark as she nears her last dance as a Gator. Cherwinski said, "It's definitely sad to leave my teammates behind but I'm hoping to leave my mark and win the state championship this year and leave with a bang," Cherwinski said.
Basketball is an unpredictable sport. The future of Gillom and the team is not set in stone and anything can happen. But two things are for certain. One, Gillom has been and will continue to be an outstanding mentor to the girls. "She has helped me grow, confidence-wise, not just as an athlete but as a student," said Lucy Sanford '25. Two, the team will put in all the fighting they have in them to reach the goal of a state championship.
Come support this promising team on its journey to win it all. The first game is on November 25.