BVM Sisters leave a legacy of education and service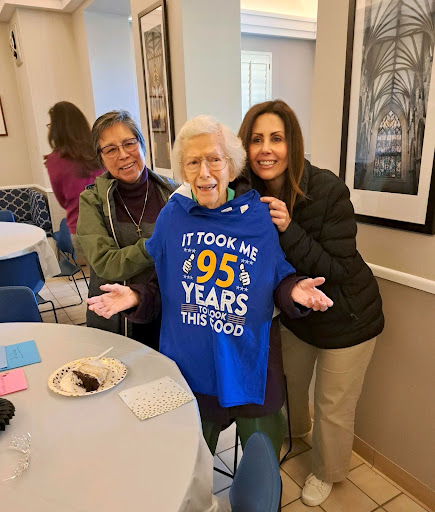 Freedom, education, charity and justice. These words are the mission and core values of the Sisters of Charity of the Blessed Virgin Mary. 
In 1833, five Irish laywomen, Mary Frances Clarke, Margaret Mann, Rose O'Toole, Eliza Kelly and Catherin Byrne were invited by a priest to move from Dublin, Ireland to Philadelphia, Pennsylvania to work with Irish immigrants. Upon arriving in New York, one of the women lost all their money when climbing down a rope ladder of a boat, leaving them penniless. The five still managed to make it to Philadelphia where the BVM convent was established until anti-Catholic riots burned down their residence. The BVM sisters then ended up in Dubuque, Iowa. 
In 1943, three BVM sisters helped open the doors of the first and only all women's Catholic high school in Phoenix called Xavier College Preparatory. Today, many BVM sisters are prominent figures amongst the Xavier community, beginning with President Sister Joan Fitzgerald. 
"My most rewarding experience as a sister has been dealing with young women all these years. They come as frightened, little freshmen and walk away as these cultivated, mature women, while having fun along the way," said Fitzgerald.  
The BVM sisters were started by teachers, making education an important part of its mission. They have opened many all-girls schools. 
Sister Isabel Conchos has been a BVM sister for 25 years. "I walked into the mother BVM house in Dubuque, and God pulled me aside. From then on I've found my home and have been living with other sisters here in Phoenix since 2003."
Conchos's favorite experience as a BVM sister was working with immigrant families in St. Teresa Parish in Kankakee, Illinois. She and other BVM sisters taught people how to speak English and helped them gain acceptance and obtain degrees from Kankakee Community College. 
Sister Mary Lou Wetzell, Xavier's administrative assistant and BVM member for almost 50 years says, "What fills me with the most happiness about being a sister is experiencing the fun of our community life together, growing in my relationship with God and others, along with serving others."
The sisters of charity of the Blessed Virgin Mary support building communities, deepening spirituality and responding to human needs. In all, there are six sisters in the Xavier community: Sister Joan Nuckols, Sister Lynn Winsor, Sister Lillian Lila, in addition to Fitzgerald, Conchos and Wetzell. 
"I'm teaching the girls that Sister Joan asked me to work within the truth committee to feed the girls' souls at the same time as taking care of their bodies. They already live a spiritual life with their families and I don't want them to lose that in college," said Conchos.  
Lila recently celebrated her 95th birthday with the Xavier community. This year is her 75th year as a BVM sister. "What inspired me to be a sister were my teachers who were nuns at my Catholic school," said Lila. 
A typical day for a BVM sister is very busy. They start early in the morning with prayer and end the day with prayer. The middle of the day is a whirlwind, as they work and attend many meetings.
"I found the BVMs because I could balance myself with work and a fun community at the same time," says Conchos. 
Each sister found their vocation to be a nun to fulfill a purpose in life or as an inspiration from other nuns they grew up with. They have advice for those who consider going down the same path. 
"Pray about it and talk to people who are sisters, then take the lead and see," says Fitzgerald. Wetzell said, "My one piece of advice to someone considering a vocation as a sister is to listen to where God is calling you."