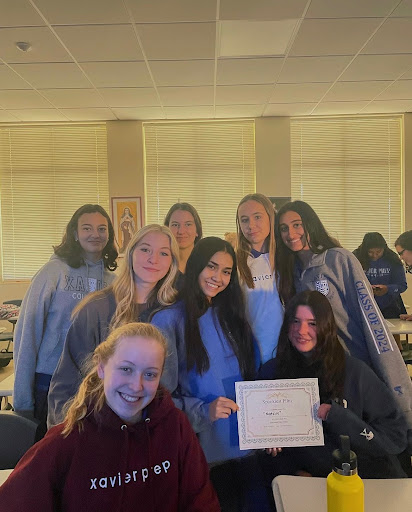 Xavier's film club is a place where students work collaboratively to develop ideas for new projects as well as gain new perspectives on behind-the-scenes action.  Club members learn about the amount of time and effort that goes into filmmaking, which ranges from hours of editing clips to fixing sound.    
The club pushes members to use their creativity to create lasting impacts on Xavier. 
 Members use skills they've gathered throughout the year to showcase their expertise.  This is done through their main project, the Traditions Day mini-movie; and their project of the year, making a vlog. Vlogs are a way for people to quickly and easily learn new information using an interactive approach.  
One of the film club's many goals is to grow members and educate non-members on the work that goes into a short film. "We want to offer some film-editing tutorials so people feel empowered to experiment," said Clayton  Zuba, club moderator.  "We also like to offer more basic editing workshops for interested newcomers," said Zuba. "We hope to continue to grow the film club and nurture people's interest."  
The club is focused on helping others find a passion for working with film and editing.  
Sejal Patel 24' is one of the co-presidents of the club.  Her dedication to filmmaking is shown through submitting her work to film festivals across the U.S. and helping edit the Traditions Day short film.  Her time leading the club allowed her to join the Presidents Council, a community of student presidents and captains who organize Traditions Day.
"Being a part of it [President's Council] feels so good to know that we helped organize something important," said Patel.  
Sophia Sweatlock 24', also co-president, feels the same about the President's Council and the opportunities it has given her to grow as a leader.  "I feel like we have more of a leadership position. … It's been a great experience," Sweatlock said.
Their enjoyment for filmmaking sparked in their middle school video class.  Patel and Sweatlock, who went to the same middle school, were influenced by a previous video class teacher to explore their passions with reworking clips and leading the productions of movies.  
"Personally I've always been interested. When I was younger, I would create my own movies,"  said Sweatlock.  Even before middle school, she showed interest in producing and editing.  
One of Patel's favorite productions this year was a Halloween project.  The club held a film festival with candy and other special treats.  The members separated into groups to create a horror movie. It's a great way to encourage members to use their imagination.  
"Putting and editing everything together [with another person] feels rewarding,"said Sweatlock.  "We edited for approximately eight hours at my house, but it was fun to spend time with each other and discuss our ideas," said Sweatlock. 
"It's amazing to see it all come together in the end, especially with all the time and effort we put in," said Sweatlock. 
The film club makes an effort to teach students about the different layers and substantial amount of time put into making these short clips.