Seniors' College Paths: The end is just the beginning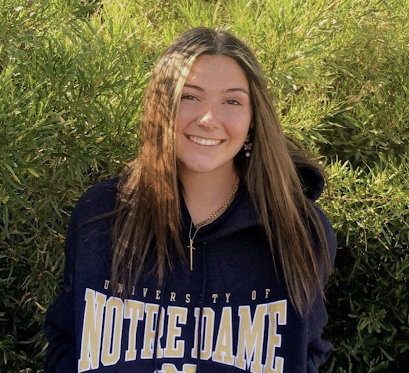 As the students of Xavier College Prep wrap up their 2022-23 school year, the class of '23 is faced with making final decisions for their post-graduation plans. While most seniors plan to attend four-year universities, some Gators have chosen to do some things a little differently for those four years.
Nora Hinkle '23 plans to join the Naval Academy in Annapolis, Maryland this fall. Originally, Hinkle had no intention of applying to the Naval Academy, but after researching the Academy she found that she "could really fit in." After her four years at the Academy, she will go on to serve for five more years.
Another senior, Isabella Leonard '23, plans to attend the University of Notre Dame in South Bend, Indiana next year in order to continue her athletic career. "Soccer has always been something I've loved to do," said Leonard. She will fulfill her dream of becoming a collegiate soccer player when she suits up for the Fighting Irish.  
Other Gator seniors have set their sights on the arts. 
Elina Ferrigno '23 will major in dance at Dickinson College in Carlisle, Pennsylvania this upcoming school year. Ferrigno says she is excited to "continue her lifelong passion of dance and ballet."
Other Gators are diving away from pursuing the normal four-year university path in America in order to explore different ponds in other countries through study abroad programs.
Josephine Donaldson '23 plans to major in English at Creighton University in Omaha, Nebraska in order to kick off her writing career, but to help gain an even broader perspective she'll spend her first semester abroad in Italy as a Global Scholar. She is most excited to try the various foods Italy has to offer. 
Pursuing a non-traditional path in college did not always come easy to these girls, as their application processes were rigorous experiences. For example, Hinkle had to get a congressional nomination, sit for an interview and pass a tedious fitness test. Donaldson had to fly to Nebraska for her Global Scholar semester abroad interview. 
Even after the acceptances came, these students still had to prepare for their rigorous programs that begin in the fall. Hinkle, Leonard and Ferrigno plan to stay in shape over the summer for their physically demanding roles this upcoming year.
With all this preparation, there still comes the fear of trying something new and entering the unknown.
 "I'm most scared of venturing into other types of dance besides ballet," Ferrigno said.
 Leonard says,  "I am nervous about playing on a new team with different girls."
Despite the fears, all the Gators feel confident that Xavier College Prep has done an excellent job in preparing them for their future challenges. 
"Having a regimen and being disciplined with balancing the heavy workload with athletics" helped Hinkle prepare for the Naval Academy. Xavier's many creative-based electives and classes have helped Donaldson and Ferrigno develop their skills of communication through their artistic modes. 
Seniors have advice for those who might want to pursue their own unique paths. 
Hinkle and Ferrigno agree that one of the keys to success is believing in yourself. "Trust in yourself and your judgment," Hinkle said. 
Ferrigno said, "You have to be your number one supporter and push for what you want." 
Another piece of advice from Leonard is, "Always keep working because there's always room for improvement."
"Relax and be yourself," said Donaldson.
Overall, no matter what path future Gators choose, some things remain true: Xavier has prepared all, and each course of action is special in its own way. Go seniors and go Gators.