Q & A: the flu
Opinions Editor Helen Innes answers important questions about the flu season.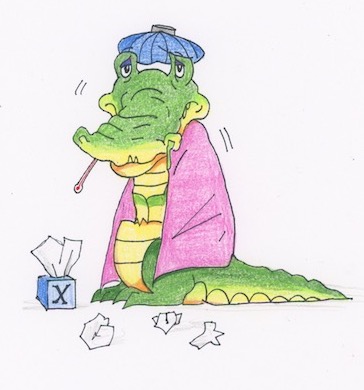 Catching the flu is anything but fun, especially for a busy Xavier girl who is forced to handle hours of seemingly never-ending homework. Not to mention, it is just the start of the semester and tallying up absences now is not a good way to finish the year. If you have already read and stuck to the guidelines of my article, "Combatting the common cold: tips and tricks" and still manage to develop the flu (it happens to the best of us), then the list below is just for you.
How long should I stay home after contracting the flu?
The Centers for Disease Control and Prevention (CDC) suggests staying at home for a minimum of 24 hours after your fever has diminished. Adding to this idea CDC.gov says that, "your fever should be gone without the use of fever-reducing medicine, such as Tylenol®." Hold the volleyball and stop your homework because not going to sports practice and school helps to shield the virus from spreading.
How often should I get vaccinated for the flu?
The CDC recommends that everyone should receive a flu vaccination (even if you seem to never get sick) because the virus can attack anyone. Most vaccinations are done in early October, but if you still have not been vaccinated, that is okay. "Vaccination should continue throughout the flu season, even in January or later.", CDC.gov states. However, it is always a good idea to talk with your doctor before receiving a vaccination. If you need to find somewhere to receive a vaccination, usually a local urgent care clinic or pharmacy will be available.
What is the difference between the flu and a cold?
The flu and the cold share common symptoms but they are each caused by different viruses. Usually, the symptoms of the flu are worse than the symptoms of a cold. According to Webmd.com, "Influenza, or the flu, develops when a flu virus infects your respiratory system, including your nose, throat, bronchial tubes and possibly the lungs. A cold virus usually infects only your upper respiratory tract: your nose and throat." Either way, having the flu or a cold is a proactive reason to stay home from school without the risk of contaminating your classmates or feeling groggy through your 1st period test.
Luckily, more questions and answers can be easily found at https://www.cdc.gov and http://www.webmd.boots.com . Thankfully washing your hands regularly, having a decent sleep schedule, drinking plenty of water, and consuming the right foods are simple ways that you can have an impact on your sickness over the winter season. Stay healthy Xavier.