Brophy Student Theater Performance: The Bronco Room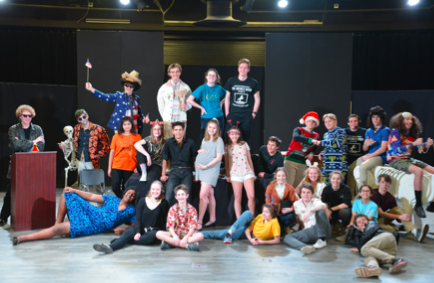 Brophy's Student Theater performances have been notoriously hilarious and this winter's performance, The Bronco Room, was no different. The objective of the Bronco Room is to create a show that is written and directed by students. Senior Director Chloe Ann Porter comments on her experience as a director for this performance: "Being a director has been a magical experience that taught me the value of responsibility, leadership, and compassion. I would not trade it for the world and I cannot wait to direct the musical in the spring." The Bronco Room performed this past week and weekend, Thur., Fri., and Sat. night at 7:00pm. The cost to enter into the performance was one can of food, which will be donated to the St. Vincent De Paul Society.
Xavier students are given the opportunity to participate in this Brophy-run program and it gives them an opportunity to enjoy themselves on the stage, while collaborating with a variety of different people to create a comical show. Members of the cast that are our very own Gators include: Sophomore Kathleen Crawford, Senior Grace Fioriti, Freshman Ally Kauffman, Junior Jocie O'Riley, Senior Chloe Simms, Sophomore Lily Smyth, and Freshman Alisha Waheed. Senior Chloe Ann Porter was one of the show's directors, while Sophomore Camille Kerber took part as Assistant Stage Manager, and Senior Delani Hita was in control of the lighting. These 10 Xavier students have dedicated their afternoons since Oct. to the performance of this show, and all of their hard work has truly paid off!
Actress and Junior Jocie O'Riley talks about the tremendous opportunity that this show has provided for her, "Brophy Student Theatre (BST) is my favorite part of the day. It gives me something to look forward to during school and gave me the chance to meet some of my best friends. The club always has such a warm and welcoming energy as the student collaborate to create the show. With each show, the cast bonds so quickly that it evolves into a family."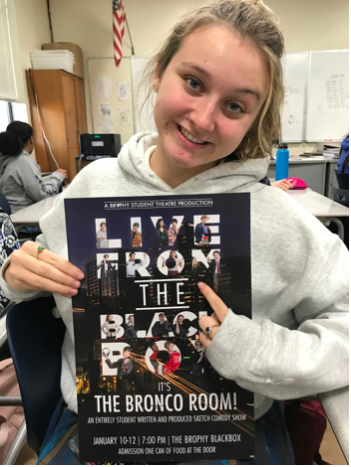 Brophy Student Theater is very different from other musical performances put on by Xavier, in the sense that it is a collection of small "skits", all with different storylines, that are combined into one show. All of these skits are written by the cast and are a comedical take on social issues, stereotypes, SNL skits, pop culture "memes" and well-known events. Some of the crowd-favorite skits that were performed was the iconic Space Force, Scottsdale Scandal, A Day in Court, Passive Aggressive Potluck, Welcome to IKEA and the newsroom skit called The Bronco Room. These skits and more contributed to many laughs throughout the show and were excellent examples of comical collaboration by the cast.
Junior Taylor Garman saw the performance on Sat., Jan. 12, and was very impressed by the performance, "Brophy Student Theater was hilariously clever. The writing, the directing, and acting was phenomenal, and blew me away."