Xavier Basketball: Leading by Example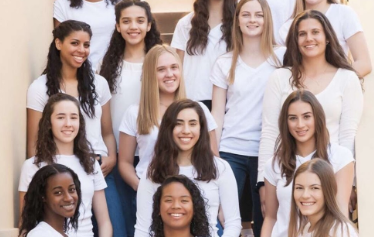 After last season's run to the State Championship game, Xavier Varsity Basketball continues to dominate the 6A division and are currently ranked 3rd in the state by AZPreps365, behind Hamilton and Pinnacle. The Gators credit some of their early success to great leadership from senior captains Leilani McIntosh, Addie Putnam, and Paris Rasheed-Moore.
The Gators had a quick start to the season after recording multiple blow out wins as they were crowned champions of the Scorpion Shootout at Desert Edge High School. A lot of successful teamwork was seen in the early stages of the season. Xavier went on a thirteen game win streak, which lasted from Nov. 23 to December 29. With a current record of 18-2, the Gators still have seven more games this season, in which they hope to continue improving their record.
Junior Tanya Barakat projects the team will continue on improving their record because "I see us improving in practice and every day we become a closer and stronger team."
This year, Xavier has six seniors on the Varsity Basketball team and three seniors were selected as captains. All athletes know how important it is to have strong guidance from the most experienced players on the team. Sophomore Kailey Appel echoed this belief and shared that this year's seniors, "have helped the team this year a lot by leading by example and pushing us to get better during practice so we can succeed in every game."
Every Xavier basketball team is different than the one that came before it. A new season brings new players, new goals and new characteristics. Senior Captain Leilani McIntosh comments on the attributes that the team prides itself on, "The main traits that our team is based around is attitude, work ethic, and communication. We base our team around these traits to separate us from the rest of the teams in our division. If we don't follow these traits, it will be the reason we don't accomplish our number one goal of making history and winning state!"