XCP golfers thrive on and beyond the green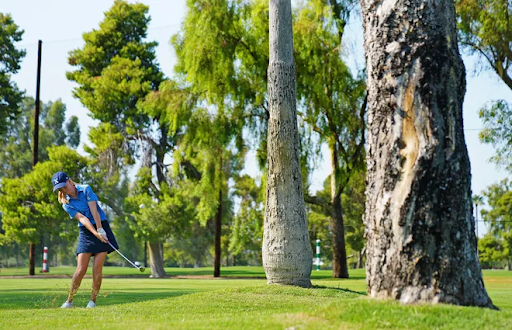 It is not every day that a student is named a Rolex Scholastic Junior All-American Honoree but on November 7 it was announced that Annie Dawson '23 was one of 50 out of hundreds of student-athletes around the country to be selected for this prestigious award.
To be considered for this award a student must meet the following criteria: a minimum test score of 1450 (SAT) or 33 (ACT) and a minimum weighted GPA of 3.5 on a 4.0 scale or 90 on a 100 scale. Dawson managed to achieve this with an impressive weighted GPA of 4.5.
Xavier College Preparatory's golf team is one of Arizona's strongest and longest-reigning high school sports dynasties led by Sister Lynn Winsor and co-head coach Tui Selvaratnam. From this program have emerged girls with strong work ethics on and off the green, which has led them to success as athletes and students.
As in years before, the golf team lived up to its reputation of being a winning team and maintained an impeccable regular season record of 9-0. They also won two invitationals, won the state preview and came in second in one invitational.
However, the team came in a rare second place at the state golf tournament, coming behind the Jennifer Seo-led Hamilton Huskies.
Despite this, the coaches are proud of the team's efforts."Overall it was a good season. The girls worked hard and played decently. I am proud of them for everything that they did," said Selvaratnam.
According to Selvaratnam, the team was under the good leadership of seniors Dawson and Sophie Stamatis. 
Stamatis enjoyed this season and learned a lot. "This golf season was fun with a lot of organization going into it, with having so many girls on the team. For me, I have had fun getting to know everyone individually and learning how to be a good leader," she said.
"It was sentimental just because it's been four years of the same coaches and same team, but I am going on to play in college so it's not the end of my golf journey," said Dawson.
This may be Dawson's last year wearing the Xavier's blue and white but it is definitely not the end. Dawson will go on to study and play for Creighton University. She will officially sign with Creighton at Xavier on November 16.
Teammate Jayden Jevnick '24 announced via Instagram that she committed to Vanderbilt University on November 4.
"I am beyond excited and blessed to announce that I have verbally committed to continue my golf and academic career at Vanderbilt University," Jevnick wrote. 
The golfers may not have won a trophy, but they still managed to achieve excellence. Excellence that will last the long run and impact their futures, futures that were built on hard work, dedication and love for the sport.