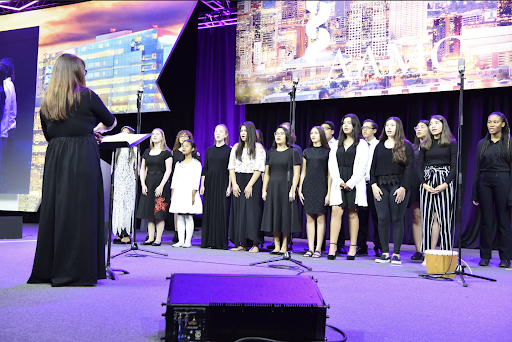 Melodic and sonorous voices come together and engulf the room as the Rosie's House choir sings their repertoire. 
Choir is just one of the many programs that Rosie's House offers to those who join, having string, wind and brass instrument classes too. Providing free music lessons, free meals, loaned instruments and mentorship, Rosie's House has been impacting kids' lives since Rosie Schurz founded it in 1996.
A German immigrant, Schurz was forced to leave her violin behind when her family fled the ongoing violence of World War II. It was the loss of her violin that later inspired the mission of her non-profit organization: to provide music to disadvantaged children. 
What started off in a small home in a poverty-stricken neighborhood of the Phoenix Oakland community has now expanded into a full blown music school in Phoenix, Arizona. 
Freshwoman Yaretzi Monroy-olguin is a student at Rosie's House and member of the choir. From a young age she was interested in theater and started choir in hopes of improving her singing skills. 
"I am thankful for Rosie's House for not only giving me, but other kids whose parents can't pay for music lessons or don't have many academic activities, many opportunities," said Monroy-olguin.
Freshwoman Elizabeth Palomares is another student at Rosie's House who started playing violin this year and has been playing the cello for four. She appreciates Rosie's House for its kind teachers and contribution to developing her favorite hobby. 
 "Rosie's House has a lot of nice people around, so it gives me more confidence in learning my instruments. My musical skills have definitely improved," Palomares said.
Aside from teaching students how to play instruments or to sing, Rosie's House aims to make a difference in their student's academic abilities. In fact, 97% of its students who graduate high school go to college. 
"Rosie's House has helped me get good grades in my orchestra class at Xavier because I know all my music notes," said Palomares. 
The music academy not only develops the musical and academic abilities of its students, but has made sure to help their leadership skills flourish, too.
Monroy-olguin recently auditioned for Xavier's spring play and remarked how without her experience at Rosie's House choir, she would not have mustered the confidence to do so.
Freshwoman Itzayana Coctecon-Cruz, part of advanced choir and piano, has also gained profound courage from her time with Rosie's House. 
"I really like how Rosie's House has helped me with my leadership and confidence since I have to perform solos. It has helped me to speak up and talk to people in public without being as intimidated as before," said Coctecon-Cruz.
Rosie's House is more than a music academy. It is a second home to students because of its loving community and push for growth in all areas of students' lives, while doing this all for free.