Maintenance and security staff strive to serve Xavier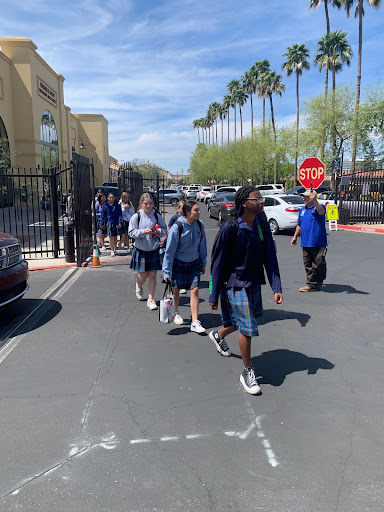 Often busy setting up for important events, maintaining the pristine condition of Founders Hall (Xavier's lunchroom), and directing students through the bustling morning drop-off, Xavier College Preparatory's maintenance and security staff typically have an extensive to-do list. 
Facilities and fleet manager Angel Delgado has been working in the maintenance department for 11 years and was made aware of Xavier by another maintenance staff member after moving to Arizona from California. 
"I moved here from California in 2012. I had worked at an AutoZone and Armando Mendoza (a member of the maintenance staff) told me to check out this job, which I did, and I love it," Delgado said. 
Delgado shares his mission for Xavier saying, "I have four daughters, so I work with the idea that all of you are my daughters. I want to make sure Xavier is a beautiful and spotless place for them and that they're comfortable."
Not only is Delgado committed to improving Xavier for the students, but he is also constantly buying new products and machines to make the jobs of the other staff members easier. "Before buying the blowers, it used to take four of us and two hours to clean the tables in Founders Hall," Delgado says.  
Armando Mendoza has been part of the maintenance team for almost 15 years and shares his excitement for the growth of Xavier. Mendoza points out that when he was just beginning his work, Founders Hall was not yet built. 
For Delgado and Mendoza, daily routines can vary. First, Delgado arrives at 6 a.m. to read emails in his office, followed by a check-in with his team about upcoming meetings and then he makes sure their conference space is clean. He then speaks with Xavier's athletics staff and sorts out the logistics of the buses needed for sports teams travel. Lastly, he makes note of equipment that needs to be replaced in order to help get a variety of jobs done.   
Mendoza takes care of large events. He helps set up Masses, the Dad's Club BBQ, the X-Breakfast, and many other events.  
Although this busy schedule may seem overwhelming to some, Delgado said, "I've never complained and don't think it's overwhelming because it's something that I like to do. It's like a challenge to me."
Karen Vance, Xavier's director of security and a retired police officer, has been working at Xavier for 2 1/2  years. Vance aims to make Xavier a safe place so that the girls can focus on education.
Being a social person, a strong Christian and a former police officer, Vance explains that working at Xavier was the perfect fit for her. In the morning, Vance is stationed at the front gate and enjoys welcoming people on their way in, saying, "I really enjoy greeting people as they come in and out. I love conversation and just being here." 
Vance demonstrates her dedication to keeping Xavier secure by working even on her designated breaks. "During my break time, I will walk or drive around campus just to make sure it's safe," Vance said.   
She mainly looks forward to working security at Xavier sporting events saying, "I really focus on being around the fans no matter the school. My biggest thing is that I want to make sure everyone is safe, especially seeing that many people give the refs and officials a hard time."  
Vance noted how going from being a police officer to a crossing guard was a drastic change, though it has taught her humility. 
"I used to have a secretary that did everything for me, and now I'm pretty isolated. However, it's been good for my growth because I am able to reflect and become a humbler person," Vance said.    
Delgado, Mendoza, and Vance agree that Xavier has given them valuable life lessons and helped them to form lifelong connections with amazing people.  
 "This job changed everything for me. It has provided me and my, at the time, small family a new home, a new car, and a new challenge. Now we're a family of seven and are very happy," said Delgado.