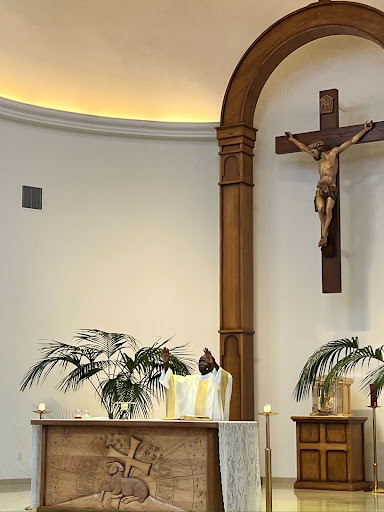 The beginning of the 2023 school year at Xavier College Preparatory has seen many changes, most notably with the addition of a new faculty member, Father Elario Zambakari. 
Zambakari's story is interesting and special. Originally from South Sudan, he brings new ideas, a unique perspective and a fascinating history. 
Growing up in a period of strife in Sudan, life was not easy for Catholics. The Second Sudanese Civil War began in 1983 with the imposition of Sharia Law by President Nimeiry. This law punished many South Sudanese and non-Muslims. In 2011, South Sudan voted to be an independent country from Sudan, becoming the youngest nation in the world. 
During the war, Zambakari and his family resided as refugees in the Central African Republic. Living near a Catholic seminary, Zambakari felt a calling to the priesthood at age 14. As a teenager, he enjoyed playing soccer with the seminarians. 
He recalls meeting the seminary's rector on the road, who said to him, "Go tell your mom you need to pack your things and come to the seminary."
Zambakari remembers when he was seven or eight years old "playing" the Mass. "I would take a sack and cut it and put it on me like a chasuble. Most of the time, the other children would let me be the priest because I could do it very well," he said. "We were doing what we saw. In a way, I was playing what I would be." 
He stated, however, that he didn't want to be a priest growing up. He was interested in becoming a pilot or a doctor. "God's call is like that. You will completely leave what you are doing and follow it." 
Leaving the seminary, Zambakari was sent to the Diocese of Phoenix, with his first assignment being at Saint Mary's Parish in Chandler. He has been in Arizona for five years now. 
Xavier is his first assignment as a high school chaplain. "So far, so good. Everyone is friendly, and I enjoy it when people say hi to me. And the staff is very friendly. I see God in the students and teachers here," Zambakari said.
He has enjoyed Arizona as a whole. "I can now say I'm used to the hot weather. The people in Arizona are hospitable, and there is a lot of diversity here."
He wants Xavier students to know he is there for them during their faith journey.
"I think I can relate to many high school students who are questioning their faith. When I entered the seminary, I had a lot of questions. 'Is god there?' 'How do I hear God?' I started to pray and attend Mass daily, meditate and read. Now I know I can feel his love in my heart. I can hear him talk to me," Zambakari added.
He likes to watch football, soccer, basketball and tennis, and he supports the Arsenal Football Club. He used to play volleyball and he speaks English, French, and seven African languages. His favorites are "the ones I can celebrate Mass in," which are Zande, Arabic, English and French. 
Splitting his time between Bourgade High School and Xavier, he can be seen in his office, walking around campus, holding daily Mass in the Chapel of Our Lady, or even participating in rallies, prayer days and the upcoming Kairos 18 November retreat. 
His devotion to God and his vocation are highly noticeable, especially with his involvement at Xavier.
"He has an intense energy and passion for the gospel," said theology teacher Danielle Burr. "The moment he got to Xavier, he was trying to see how to help the students and faculty." 
Burr admires what he brings to the Xavier community.
"He has a unique understanding of the global church, being from South Sudan. He knows what it means to be persecuted for one's Christian faith. There is a special energy from the Holy Spirit; he is excited and enthusiastic."
Zambakari has a fondness for Xavier, especially since his sister, Flora Zambakari, attended and graduated from the school in 2010. 
His impact has also reached the student body. 
"He is an amazing addition to our community. He is so funny and kind. Seeing him participate in the fall sports rally showcased his bright and energetic personality. I can see the love he has for Jesus," senior Gabbie Baillie said. 
Zambakari stresses the significance of Sunday Mass. He wants students, and especially parents, to know that "Sunday Mass is not just a weekly ritual. It is a sacred time for our students to connect with their faith, reflect on their spiritual journey and grow closer to God." 
According to Zambakari, Mass provides spiritual nourishment, community and fellowship, moral values and virtues, and guidance and wisdom.
Zambakari's advice for the Xavier community and those beyond is, "Let us continue to pray. God is there. He wants us to talk to him every day. He loves us regardless of what we do because he created us."