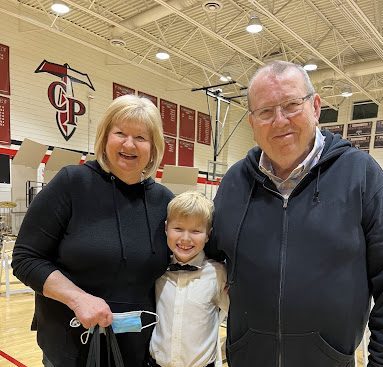 Beloved Don Ketchum passed away, due to a stroke on Jan. 25, at the age of 69, surrounded by love. Xavier can not begin to express its thanks and appreciation for Ketchum along with great sorrow at his passing. The Xavier community is praying for Ketchum, his wife Carol, and his family during this time.
Ketchum had a writing career that spanned over 40 years, working with the Arizona Republic, the Arizona Interscholastic Association and Xavier College Preparatory. 
During his life, Ketchum impacted both the lives of his readers and the lives of his family and friends. 
Prior to Ketchum's death many of the sports teams, faculty, staff and girls at Xavier sent him large cards signed with well-wishes.
In response to that act of love for Ketchum, Carol Ketchum said, "In his last moments of life he saw the love from all of you. That touched my heart and I will never forget this gesture of love to me and my family."
One well-known fact about Ketchum was that he had a huge heart that touched everyone he met.
Jeri Butts, director of student attendance and Dad's Club moderator, said, "Don always took the time to stop and talk to you to find out what was going on in your life….You knew he was asking because he wanted to know, not just to ask."
Ketchum was not only-known for his kind heart but also for his amazing sense of humor. "He could give you a one-liner comment and you would be laughing for hours," said Carol Ketchum. 
The Xavier community hoped to find a way to remember Ketchum and his work. 
Ketchum would put his heart and soul in every article he wrote. "He carefully crafted every story he ever wrote…. His articles will live on forever," said Carol Ketchum.
"Ketchum was a kind man who was deeply committed to his job covering the accomplishments of our young women here at XCP. I would like to see Don's memory honored by way of a plaque in one of our sports facilities, or perhaps an annual article in one of our XCP publications that would be named after him," said Jamie Itule, administration and assistant volleyball coach.
In recalling her last encounter with Ketchum prior to his passing, Butts said, "The last time I talked to Don was early January. He called me back about an email I sent him. I had such a good conversation with him. I feel very blessed that happened."
Xavier can not begin to understand the grief affecting the Ketchum family, particularly his wife. At the time that Carol was contacted to speak about her husband, she was preparing for his celebration of life.
"He was my husband for 35 years and we spoke everyday especially in the morning when we would talk about who he should pray for each morning. He was a prayer warrior. He also often talked about the games he had been to and his excitement when they won big games. He was so proud to be a Gator and he felt blessed that he was a part of the Xavier family," said Carol Ketchum.
Ketchum was a husband, father, grandfather and man of faith.
So, what was Don Ketchum's lasting lesson or motto for the world and life?
Carol Ketchum answered that question by saying Don would believe, "Life is short and make the most of each day God gives you. Love others and your family with all your heart. Work hard, love what you do, love with all your heart and know that God is working out the details of your life. Trust His promises."
Don Ketchum will never be forgotten from the hearts of his family and friends, nor the hearts of everyone at Xavier.