Xavier instructors dance throughout community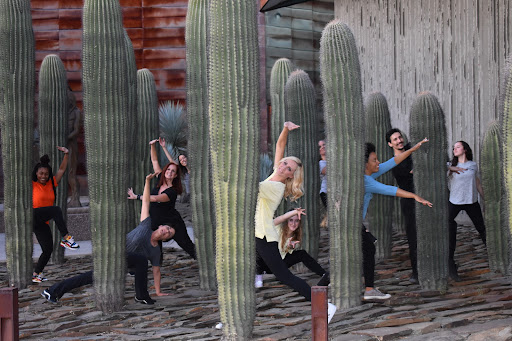 Xavier's thriving dance program can be credited to its top-notch teachers. Dance teacher and department chair, Mary Anne Herding, founded Xavier's dance program in 2002. In 2003, Kelly Scovel started teaching alongside Herding at Xavier. 
Today, both teachers are not only dance instructors at Xavier, but also part of a larger dance community. 
In the 80's, Herding established Movement Source, a contemporary and multimedia dance company. With this company, she gathers inspiration from other artists and combines dance with other art forms. Performances will often include not only dance, but other elements such as sculpture or fiber arts. 
Herding is constantly bringing innovative art to the community. For instance, she brought trolley dancing to the valley. She and her company performed contemporary pieces while trolley passengers traveled around the area to view them. 
Scovel joined Movement Source in 2009, and has danced there ever since. 
Herding and Scovel's involvement in a larger dance community allows them to bring connections and new perspectives to Xavier. 
Each year, Herding invites a guest dancer or choreographer to perform and teach at her studio. She also invites guests to Xavier, where students are exposed to new people and ideas from across the country. "Working with a guest hip-hop dancer this year was a super fun and inspiring experience. I was exposed to a fresh perspective and introduced to different techniques and styles of hip-hop," said Madelyn Shilliday, a freshman dance student. 
Herding said she appreciates how her roles facilitate "weaving together [company and Xavier dance] and keeping dance alive and current." 
Scovel, freshman dance and dance basics teacher, said her participation in Movement Source provides the "experience of working with well-renowned choreographers from across the country," which she is then able to bring into the classroom when teaching dance. 
Movement Source also allows members of ranging ages and professions to participate in a performance dance environment. Scovel finds it is a unique opportunity for her as a dance instructor. "As artists, we crave the performance element," said Scovel. She finds this desire to perform and teach fulfilled in her experience as both a dancer and a dance teacher. 
Scovel and Herding both employ their unique roles as teachers and dancers in the classroom setting. By having experience as dancers, they are able to better teach and communicate with students.