Taking back Xavier's campus: Alumnae at Open House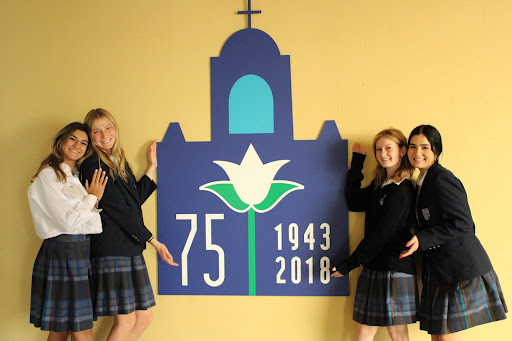 On Sunday October 23, the Xavier campus came alive with parents and their 8th grade daughters. Open House 2022 uniquely stands as different from previous years due to the impressive number of Xavier alumnae who attended with their daughters. 
"I was taken back by how many (alumnae) there were!" said Student Ambassador Co-President Lila Freeland '23.
Alumnae guests at Open House took a trip down memory lane by walking through familiar hallways like Fitzgerald Hall and experiencing new amenities like Founders Hall.
Open House provides future Xavier parents "in depth explanations of opportunities," according to Freeland. "Parents are able to receive doses of the life of a Gator at Open House, " she added.
Doses of life were most definitely given to 8th grade students the preceding Friday during 8th Grade Day. Prospective students had the chance to watch Xavier students and faculty show off their best skills during the famed Lights Out Rally. 
It is safe to say that the expectations for Open House were high after 8th Grade Day. Prospective students could not wait to show their parents "the exciting offerings they recently witnessed," said Freeland. 
Offerings at Xavier have changed over the years since Molly Starkle's '23 and mother Anne Starkle graduated from Xavier in 1983. "Her opportunities are much greater," said Anne Starkle.
"
It is fun to share stories and to see her relate to my high school life more personally."
— Molly Starkle
"The facilities are incomparable," she added. "I had a classroom with a chalkboard."
Starkle and her mother did find consistencies in their experiences at Xavier, however. Both participated in student council with the younger becoming an Executive Board member this year. 
The "emphasis on service" and "teachings that women can do anything" remain in a Xavier student's education according to Anne Starkle. 
With over 70 clubs and organizations, Xavier students of today's generation "have no limits," she added. 
"It is fun to share stories and to see her relate to my high school life more personally," said Molly Starkle. "The BVMs who worked at Xavier during her time are still there for my time." 
Mothers who attended Xavier find their relationships with attending daughters stronger. Although she does not find it necessary, Molly Starkle said, "Sharing an alma mater has only benefited the relationship I have with my mom." 
Although Xavier has changed since the graduation of alums like Anne Starkle, alums and their daughters will always share the Xavier philosophy of "Women of Faith Pursuing Excellence."